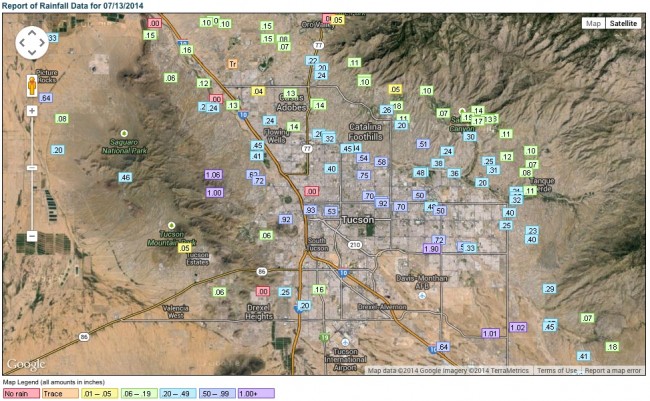 Here are July's rainfall totals which for most of us comprises all of the rain that has fallen since June 15th when Monsoon officially began.  Just .25″ so far officially at the airport, but as you can see most have receive much more.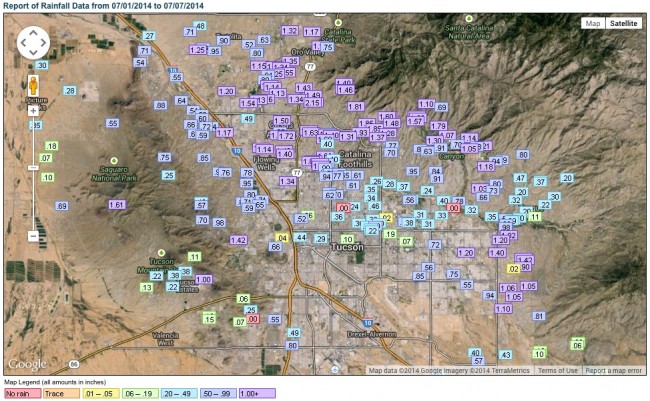 The airport picked up another .13″ of rain after midnight bringing the storm total to .58″.  Yesterday's .45″ missed the record of .47″ by just .02″!  With .59″ for the year we are officially 1.26″ below average since January 1st.  However, we are just .60″ below average since October 1st.  Here are some storm totals from around Tucson as reported this morning by RainLog.org: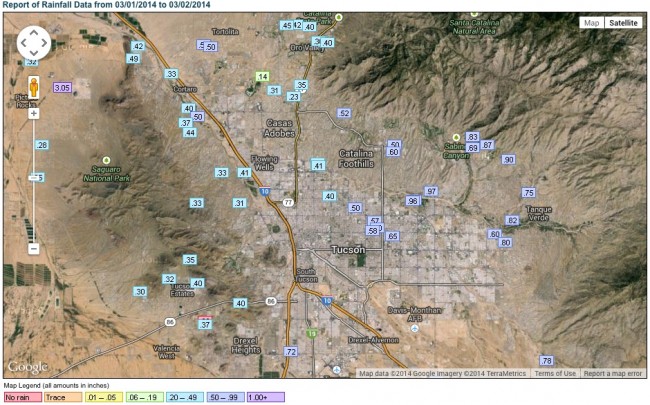 The storm is gone but the memory of nearly constant light to moderate rain over three days lingers.  Pretty much 1″ – 3″ rain totals across the Tucson area with most folks getting around 2″ give or take.  Thanx to RainLog.org for the info.  Here are the epic storm totals: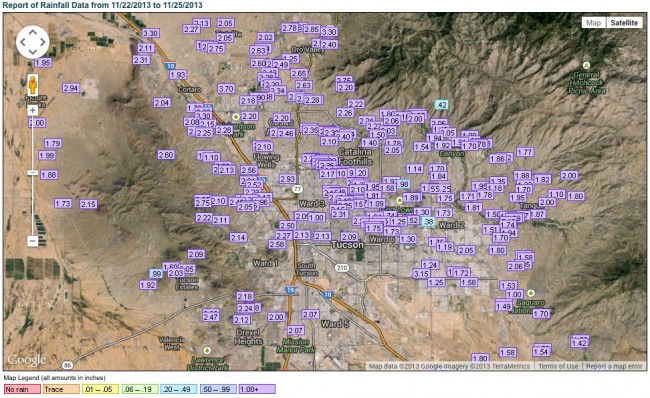 Pretty much everyone got some rain.  The east side wins big with a quarter to a half inch falling.  Here are the numbers from RainLog.org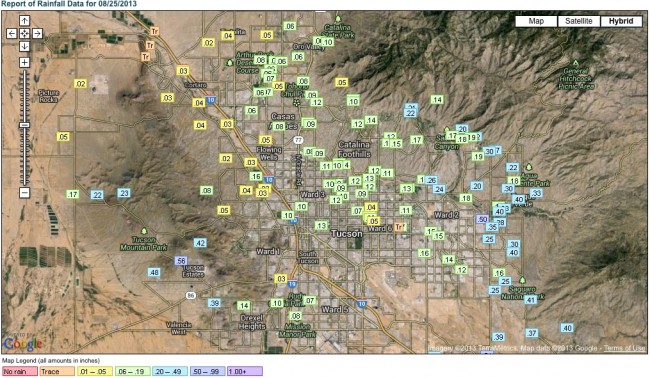 A strong storm that turned severe over Oro Valley and Marana dumped anywhere from .70″ to over 2 inches.  All of that fell in about a half hour!  The the storm collapsed causing a wet microburst with severe storm winds and damage.  A half inch to over an inch also fell in the far east side.  Here are the numbers thanx to rainlog.org
Some folks just saw a few drops while others were deluged.  Catalina receives anywhere from a half inch to nearly two inches of rain!  The Catalina Mountains had heavy rain off and on all afternoon and evening.  Picture Rocks had a heavy late evening downpour with generally a half falling in a short amount of time.  The Tucson International Airport received just over a half inch of rain.  Oro Valley to Marana generally saw a quarter to a third of an inch of rain with some in that area getting less.  Like less than a tenth here at my apartment.  Thanx again to RainLog.org for the rainfall reports.  Here they are: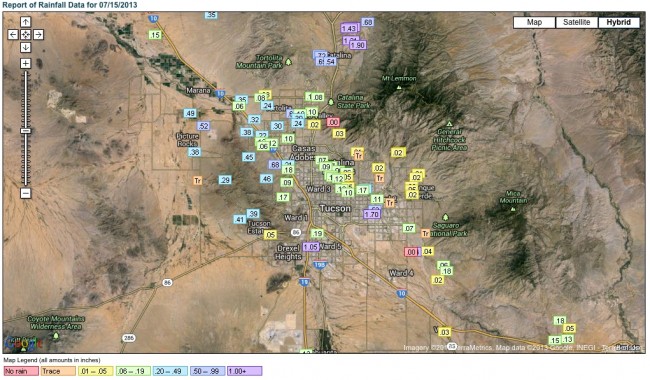 A storm developed just south southeast of the city around 11am and moved right on through getting stronger as it went.  Here are the rainfall amounts courtesy of RainLog.org.  Marana was the big winner with just about an inch.  Looks like a third of an inch at my apartment here in southern Oro Valley.  About a half inch near Sabino Canyon and also much of Oro Valley.  Officially at the Tucson International Airport just a trace.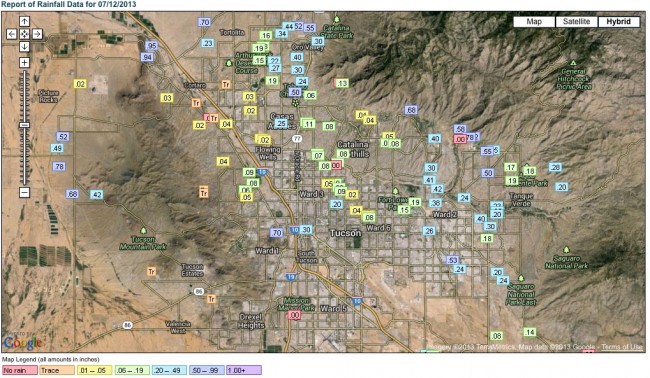 Thanx to the folks at RainLog.org here are rainfall amounts from yesterday afternoon and evening as well as from the early morning hours this morning.  Oro Valley the big winner with over 3/4 of an inch in spots.  1/4 inch plus in the Foothills.  Some other locations approaching 1/2 an inch.  All in all a nice start to Monsoon 2013.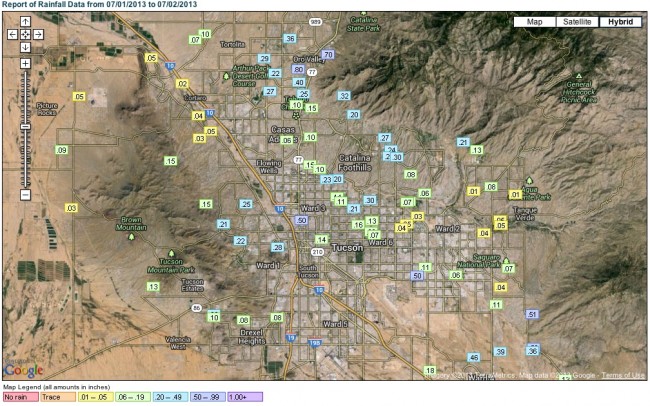 First day of Monsoon 2013 didn't disappoint for Vail and some folks on the east side of Tucson.  Here are the rainfall amounts according to RainLog.org.